i really have nothing else to write about right now, because it's 1:15 in the morning and i just happen to be up, so here's what i hope/am planning to buy for fall. or at least as of right now.
i realize i will probably be shot via comments because i posted these jeans, but honestly i really want them. i went to the mall and tried on a pair of abercrombie and fitch straight leg jeans and honestly, they were the most comfortable pair i've had on in forever. and for me, if jeans aren't comfortable they aren't worth it. so yeah, at 80 bucks they'll definitely be the pair i'll be picking up, in a dark wash obviously.
i love american apparel. lemme just get that out there. i pretty much plan on buying their short sleeve t's in every goddamn color for fall, spring, summer and winter. they go with everything, they're easy to just throw on and they look pretty freaking comfortable. if i can't spring for every color at this price, i'll just run down to the nearest target and pick up some hanes. pretty much as long as they're comfy and i have one for every pair of neon bottoms i will buy as well, i'm set.
might be getting some of these in more than one color as well, but at least in black and red. i have been bragging to everyone i know that when we all come back to school, they'll be seeing me in bike shorts. i just have to start admitting it, i have a small addiction to spandex. and i also have a growing collection of oversized t-shirts. together, they make an outfit. go figure!
i've seen a lot of people wearing these lately, but i've wanted them for awhile actually. it all started when i actually discovered deep down in me i did have some sense of style and ditched the logo t's, i also came across my parents' black ray bans with electric blue on the sides. they are still my favorite glasses. i actually don't know which parent originally owned them, but they're mine now. and now, i'm in the market for a white pair. these are actually from fred flare, because i can't afford a pair of ray bans, and my parents' old pair was maybe 7 dollars back in the day, and this pair happens to cost 9 so basically they are bomb in my book. but i won't totally ditch my originals for these, cause every once in a while i'll need to shock a crowd with the electric blue.
it took me forever to find these, which surprised me since it's such a simple flat. and this isn't exactly what i want. flat with bow? check. patent leather? check. right color red? meh. i really want a more vivid, fun red not so dull. but you get the idea, right? right?
other tidbits-
new school bag, haven't decided what kind yet
moccasins, pretty much the ultimate in winter warmth footwear (keep in mind that i live in california, winter doesn't mean that much)
rain boots, preferably these real cute ones i saw on the marc jacobs website but you know whatever does the job
anything else that tickles my fancy at american apparel
in other news:
i saw harry potter and the order of the phoenix tonight. it was very, very, very, as many times as i can say very without sounding like a broken record, good. it was much better than the other movies, maybe it's the new director? (those seem to come and go as quickly as the teachers of defense against the dark arts!), but i really liked how much depth there was and how hp and co. are definitely maturing as they move up rank at hogwarts. plus, the new characters' parts were definitely properly filled by the right actors/actresses. bellatrix lestrange? helena bonham carter was an amazing choice. not how i pictured her, but better even though she was a creep out. (my cousin and i kept joking around, saying she was on LSD.) luna lovegood? she was gorgeous, her voice was kinda weird, but i guess if you've read the books, you could have seen that coming. umbridge? oh my god, this was where the perfectness ended. she played the character well, too bad she didn't look a thing like mary grandpre's drawings. i was a tad bit disappointed. but lack of looks was forgiven when i saw this one boy in the DA who they never actually said his name, but he had amazing brown hair. who was that boy? he should have his own TV show!
alright well, outfit wise i went casual. here's some pics from the evening. wow, i'm overloading this post with photos.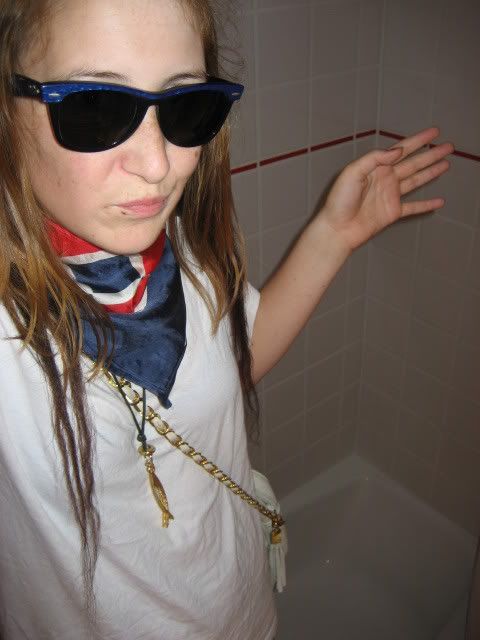 plain white t, straight jeans, blue/red neckscarf, gold chains (medallion! added later), off white quilted purse, sweet fucking ass ray bans (explained earlier)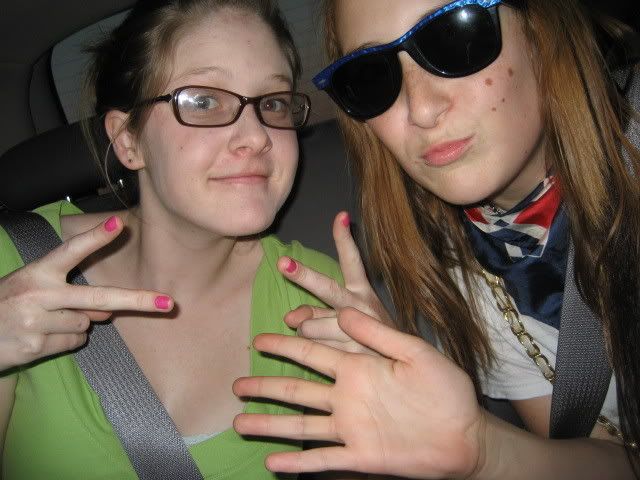 my awesome cousin and i before the movie. we pretty much rock.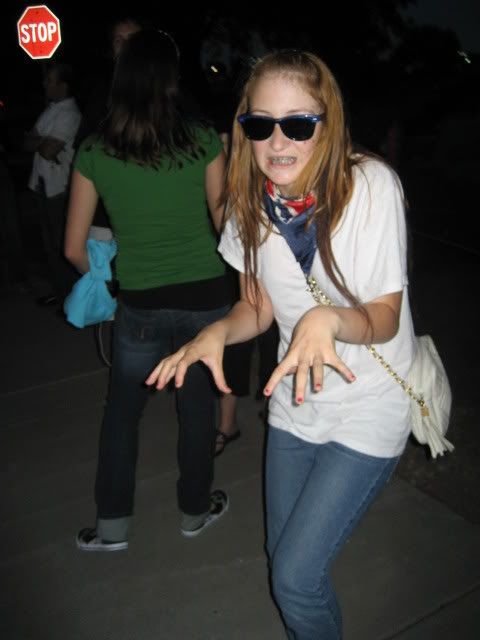 me doing a "creepwalk" in line outside to pass the time away before we got to go in. i realize i look like i'm a mental nutcase in this picture, but you know, i might be.
okaaaay that concludes my really long, nothing about high fashion or celebrities, 2 in the morning post. i guess it's cool if you don't leave comments. but it'd be nice if you did.
luuuurrrvve, kate (: